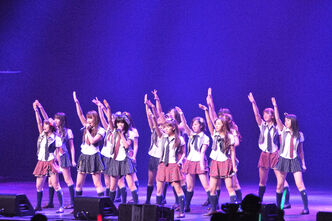 AKB48 (read "A.K.B. Forty-eight") is a Japanese girl pop group. As of April 2013, the group has 86 members. The girls range in age from early teens to mid-20s. Produced by Yasushi Akimoto, it is one of the highest-earning musical acts in the world, with 2011 record sales of over US $200 million in Japan. It has achieved such popularity in Japan that it has been characterized as a social phenomenon. AKB48 is responsible for the Sugar Rush Theme that appears when Ralph first enters Sugar Rush and at the movie's credits. The Japanese version of the movie is named after the song, making AKB48 even more popular.
Ad blocker interference detected!
Wikia is a free-to-use site that makes money from advertising. We have a modified experience for viewers using ad blockers

Wikia is not accessible if you've made further modifications. Remove the custom ad blocker rule(s) and the page will load as expected.