Random Roster Race
Comments

5
245pages on
this wiki
The Random Roster Race is a race that the all Sugar Rush racers have every night after the arcade closes. Because Sugar Rush has a "New Racers Daily" feature, when the arcade closes, all the Sugar Rush Racers race to determine who will be in the roster the next day. 
The first nine racers to cross the finish line will be the ones who appear on the roster for the next day.  All the Sugar Rush Racers must pay a price of one gold coin to be allowed to participate in the race. 
The race seems to be across all the Sugar Rush racetracks. There are tricks such as gumballs, and it is somewhat hard to avoid being hit by them. To avoid being hit by the gumballs, the racers have to swerve left to right to avoid being hit. One of the racers, Swizzle Malarkey gets hit by a gumball and goes backwards.
Known tracks in the film and Trivia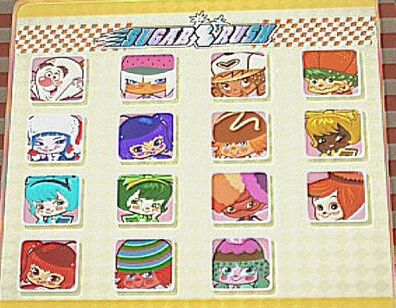 Gumball Gorge Track
Frosty Rally (possibly)
Rainbow Track (Nougat Mines according to descriptive video)
Sweet Ride (online version only)
Sugar Rush (online version only)
In some international versions of the film, the racers list is replaced by a matrix of large icons of the racers in case their names are different for the language dub.
In Wreck-it Ralph the game, King Candy's name was on the board.
| Language | Name | Meaning |
| --- | --- | --- |
| Polish | Mistrz Cukiernicy | Master Confectioners |
| Brazilian Portuguese | Corrida Doce | Sweet Race |
| Russian | Сладкий форсаж | Sweet Afterburner |
| Ukrainian | ЦукроШал | SugarFury |
Status of the racers
Hit by a gumball
Hit by an Ice Cream Cannon
Hit by Sweet Seekers
Vanellope passes
Fell into a giant cupcake
Kart crashed because of Cy-Bugs
Interrupted by Cy-Bugs