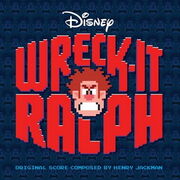 The Wreck-It Ralph soundtrack was composed by Henry Jackman. It has 25 songs:
"Celebration"
"Bug Hunt (Noisia Remix)"
"Wreck-It Ralph"
"Life in the Arcade"
"Jumping Ship"
"Rocket Fiasco"
"Vanellope von Schweetz"
"Royal Raceway"
"Cupcake Breakout"
"Candy Vandals"
"Turbo Flashback"
"Laffy Taffies"
"One Minute to Win It"
"Vanellope's Hideout"
"Messing with the Program"
"King Candy"
"Broken-Karted"
"Out of the Penthouse, Off to the Race"
"Sugar Rush Showdown"
"You're My Hero"
"Arcade Finale"
Ad blocker interference detected!
Wikia is a free-to-use site that makes money from advertising. We have a modified experience for viewers using ad blockers

Wikia is not accessible if you've made further modifications. Remove the custom ad blocker rule(s) and the page will load as expected.