257 articles and 4,371 files since June 2012

Insert Coin
Happy one year anniversary, Wreck-It Ralph Wiki!
Congrats to the cast and crew of Wreck-It Ralph for winning an Annie and KCA!
Welcome to Wreck-It Ralph Wiki- a collaborative community and encyclopedia about Wreck-It Ralph that anyone registered on Wikia can edit. If you're not already a member, sign up now!
Be sure to read the Help Index and Do's and Don'ts Page before you dive in. Then you can grab your golden hammer, select a page to edit, and get fixing!
Sister Wiki
Wreck-It-Ralph Fanon Wiki
Please keep all information on WiR Wiki factual and canon- any fan speculation or headcanons should be directed to the our affiliate, the WiR Fanon Wiki!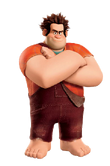 Wreck-It Ralph
, is the main protagonist of the titular movie
Wreck-It Ralph
. He is voiced by
John C. Reilly
.
Ralph is a heavy-handed wrecking riot with a heart. For 30 years—day in, day out—he's been doing his job as "The Bad Guy" in the arcade game
Fix-It Felix, Jr.
But it is getting harder and harder to love his job when no one seems to like him for doing it. Suffering from a classic case of Bad-Guy fatigue and hungry for a little wreck-ognition, Ralph embarks on a wild adventure across an incredible arcade-game universe to prove that just because he is a Bad Guy, it does not mean he is a
bad
guy.
See his full article by clicking here.
Recently Featured: Wreck-It Ralph ♦ Vanellope Von Schweetz ♦ Fix-It Felix, Jr. ♦ Sergeant Calhoun ♦ Taffyta Muttonfudge



Go Turbo for our affiliates! If you're interested in affiliating with Wreck-It Ralph Wiki, please contact an admin or leave a request here.




Who is your favorite Sugar Rush character?

"I'm already happy. I've got the coolest friend in the world."
―Wreck-It Ralph (character)


Create blog post
After talking with Raised By Wolves, I decided to play around with the theme colors of the wiki in order to try to find a way to make the wordmark stand out more (sometime recently (I don't know when because I use the Monobook skin), the header in t…

Read more >
See more >

Ad blocker interference detected!
Wikia is a free-to-use site that makes money from advertising. We have a modified experience for viewers using ad blockers

Wikia is not accessible if you've made further modifications. Remove the custom ad blocker rule(s) and the page will load as expected.